All stages of new road development should conform to recognised standards and follow best practices in planning, design and construction. Safety audits are carried out at the planning and design stages of all new road projects, as well as after completion, to ensure that designs comply with the latest design and safety standards. It is easier and far more cost effective to change a line on a drawing than to remedy an unsafe feature once a road is built.
The road surface, shoulders, kerbing and traffic regulation treatments all contribute to safer roads. As road users we have a responsibility to drive safely, report hazards we are aware of and so ensure that our roads are safe for us all to use.
Wire-rope safety barriers
A wire-rope safety fence now resides along the median of Port Wakefield road south of Port Wakefield to prevent vehicles crossing into oncoming traffic. To date, the wire-rope barrier has been hit six times indicating the posible prevention of the same number of head-on crashes.
The 1.7km section of Port Wakefield Road was recommended for the trial following crash analysis conducted by the Centre for Automotive Safety Research (CASR). Shoulder and lane widening work will also be undertaken to complement the works.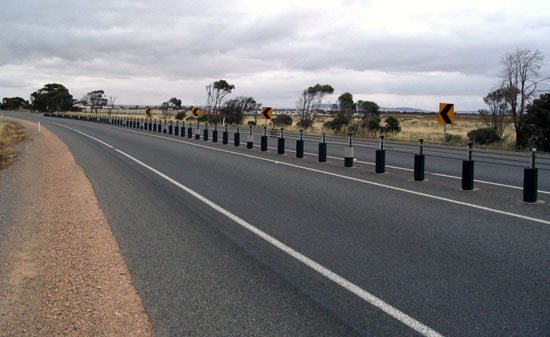 Shoulder sealing program
Shoulder sealing is aimed at improving the safety of regional roads by sealing the road shoulder to provide a seal width that allows greater opportunity to recover safely if the vehicle moves from the traveling lane.
A common cause of crashes on country roads is running off the bitumen on to the soft edge then over-correcting steering to the right or braking too hard. Shoulder sealing on rural arterial roads has the potential to reduce crashes by more than 40% by providing additional margins when vehicles run off the road because of driver fatigue or errors in judgement.
Motorcycle barriers
Motorcycle safety in the Adelaide Hills is further being improved with the extension of motorcycle barriers along Gorge Road. The barriers are designed to absorb energy during impact and deflect a rider away from the impact point. Shielding riders from hitting roadsides hazards.
Motorcycle barriers are installed along a stretch of Gorge Road at Cudlee Creek near Kangaroo Creek reservoir in the Adelaide Hills.
The barriers extend the traditional steel beam safety guard rails used on roadsides to cover exposed posts and gaps to reduce the impact should a motorcyclist be involved in a crash.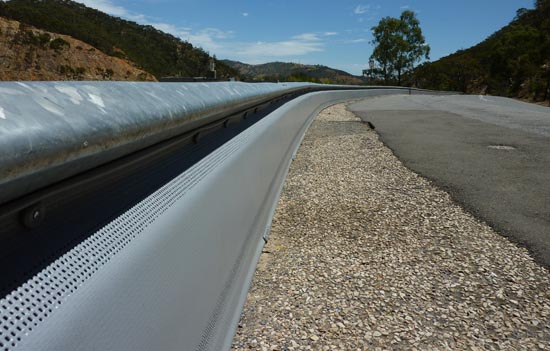 There are two types of barriers used in the Adelaide hills; BASYC mesh barriers and steel ACP barriers.
South Australia is the first Australian State to use the BASYC Protection System used in several cities in Spain, including Madrid.
The BASYC barrier is of benefit to all road users as the flexible tensioned mesh barrier assists to absorb the energy of impacts. On impact the rider is redirected in the same direction due to the high tenacity and high elasticity of the product. The textile mesh is made of a fireproof recyclable product that has UV protection, and is resistant to extreme temperatures. A paraffin and Teflon covering prevents high temperatures generated by friction at the moment of impact and ensures the progressive slip of the rider on the mesh. The product is easily installed as it is not necessary to remove the existing beam and little maintenance is required.
Australian first - motorcycle barriers installed
Hazard Protection - Rural Road Safety Program
The Rural Road Safety Program is aimed at creating safer roadsides, which targets infrastructure improvements including removal, modification and shielding of fixed objects. This minimises the crash risk and severity of crashes such as those caused by running off the carriageway, losing control and hitting a fixed object.
Road works, natural hazards, crash scenes and incidental road hazards must be made obvious to road users, by the use of traffic cones, advisory speed signs, temporary traffic lights, manned or mobile advisory signs. Road and emergency workers should wear high visibility clothing. Legislation requires that drivers travel at no more than 25 km/h when passing signed road works and be prepared to stop of necessary or required.
Hitting a fixed object is the number one crash problem and the most common type of fatal and serious injury crash in South Australia.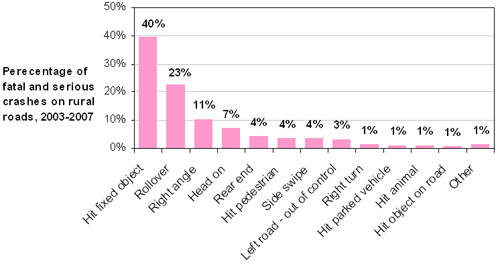 Overtaking lanes
Overtaking lanes reduce the likelihood of impatient or frustrated drivers attempting to overtake slower vehicles in dangerous locations by giving them the opportunity to pass safely. Overseas studies indicate that crashes can be reduced by up to 25% by providing overtaking lanes on existing two-lane highways. Even greater reductions are achieved in rolling or hilly terrain.
Overtaking lanes are provided on some rural highways, in particular the Dukes Highway A8, National Highway A1 between Port Wakefield and Port Augusta, the Sturt Highway A20 and Main North Road B64 to Clare. They are not as common on other rural roads in South Australia.
Black Spot program
Black Spots are identified by higher than usual crash rates at particular locations. Addressing problems at these locations has proved to be highly effective with significant safety benefits for every dollar spent on the Black Spot program.