Product Safety Recall - Please check your flares
17 December 2020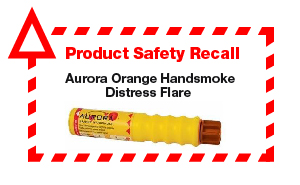 Please check your flares. There has been a product safety recall for Aurora orange handsmoke distress flares sold between 1 October 2020 and 30 November 2020. Item number 9539320, lot numbers 060 to 061 inclusive.
The defect in these flares may cause smoke to vent from both ends instead of the top end causing the handle of the product to become hot, increasing the risk of an injury.
If you own one of these products you can return it to the place of purchase for a replacement or full refund.
Visit Australian product recall for more information.