Concrete Batch Plant Industry Event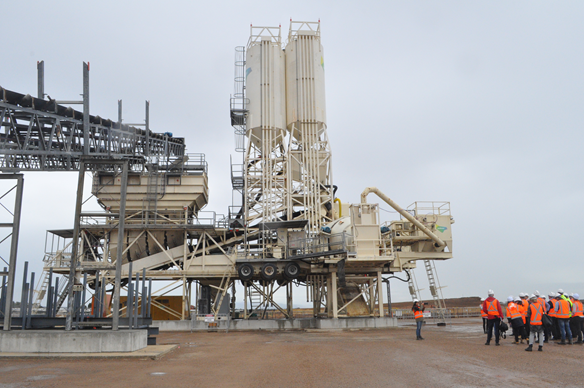 The $885 million project Northern Connector project will be South Australia's first major concrete road, leading to more local jobs and work for local businesses.
The concrete batch plant is being built at the project's main site compound in Waterloo Corner. It is arriving in approximately 28 deliveries over four days, with the longest delivery truck stretching 35 metres. The batch plant will be fully erected in the coming weeks with commissioning and testing to take place over the coming months
The concrete batch plant will produce 175,000 cubic metres of concrete, enough to fill 70 Olympic sized swimming pools.
It is estimated that building a concrete pavement will contribute another $11 million to the local industry and support more than 40 extra jobs. A concrete finish is also expected to almost halve the ongoing maintenance costs of the road.
Lendlease Project Director, Danny Parkinson said: "We're excited at bringing our capability and expertise to deliver South Australia's first major concrete road. The concrete pavement supports investment in South Australian industry throughout the supply chain, including local quarries, cement suppliers and transport contractors".
All of the cement to be used for the Northern Connector Project will be provided by Adelaide Brighton, a proud South Australian company.
Already, the Project is generating 89% economic benefit to South Australia through purchasing materials, equipment and services from South Australian businesses, ensuring local workers and businesses get the maximum return from our investment.
Following the recent completion of $3.4 million of early works at Kings and Bolivar roads in Paralowie, construction of the concrete pavement is expected to commence in early to mid-2018.
Craig Laslett, the Managing Director for Lendlease's Engineering business, said the company was looking forward to working with the Australian and South Australian governments to maximise local benefits from the project.
"We are committed to maximising opportunities for local participation at every step of the Northern Connector Project," Mr Laslett said.
"Not only does the concrete pavement maximise economic benefits for South Australia now, but provides a high quality, value for money road that will reduce ongoing maintenance costs in the future."
Cement, Concrete and Aggregates Australia State Director Todd Hacking said taxpayers will receive value for money, through a durable, sustainable pavement and will experience a superior ride quality.
"CCAA predicts this will be the first of many new concrete roads in South Australia as the economic, environmental and social benefits are realised."
On weekdays more than 52,000 vehicles are expected to use the six-lane, 15.5 kilometre link between the Northern Expressway, the South Road Superway and the Port River Expressway.