Victor Harbor Road Duplication
---
About the project
---
The Australian Government has announced $73.6 million in funding for the duplication of Victor Harbor Road, between Main South Road and Main Road, McLaren Vale. In addition, the South Australian Government has committed $18.4 million to the project, bringing the total project funding to $92 million.
The McLaren Vale region and outer southern suburbs have seen notable growth in recent years and caters to significant tourism activity primarily related to the iconic wine region and associated viticulture and agriculture industries.
Approximately 23,000 vehicles use the road each day, including 7% commercial vehicles. Traffic has grown by an approximate annual average of 3% since 2011 and is expected to increase. From 2014 until 2018, inclusive, there were 22 casualty crashes.
Traffic volumes and crash history between Main South Road and Main Road, McLaren Vale has reached a point where duplication of the road to dual carriageway is necessary to alleviate traffic delays and safety issues.
The duplication will:
improve travel times
improve safety
accommodate future growth
improve economic productivity.
Major works are planned to start in 2021/22.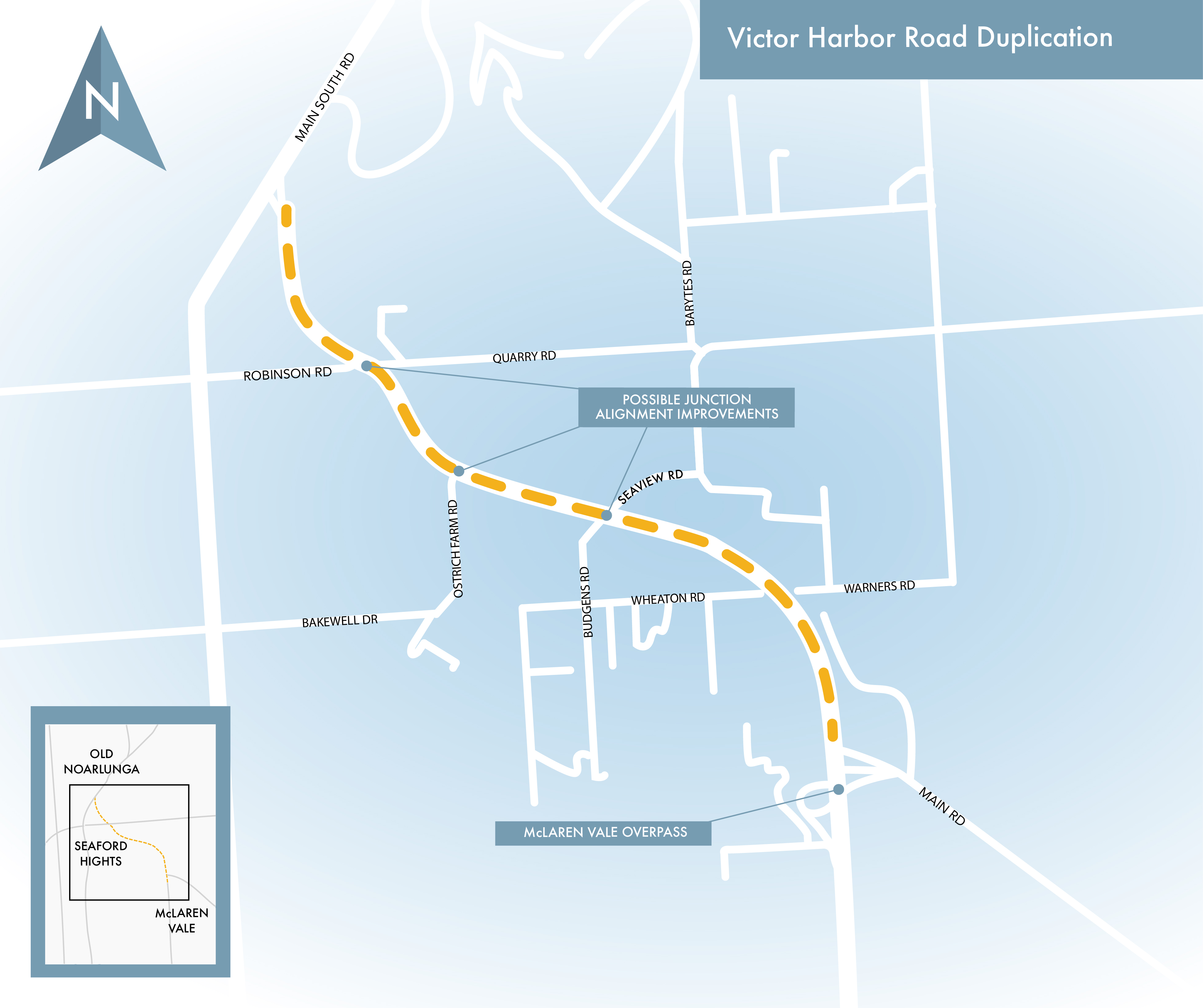 What's next?
The contract for detailed planning and design work has commenced and will conclude in 2020. Community and stakeholder engagement is an important part of the planning process and as planning progresses consultation with residents, land owners and business owners will continue to occur to help inform and develop the preferred concept and design. Community consultation sessions were recently held at Seaford Central Shopping Centre, McLaren Vale Central Shopping Centre and Aberfoyle Hub Shopping Centre and provided the project team with an opportunity to listen to the voices of the community. As more detailed information about the planning and design work for the project becomes available, the website will be updated.
Further information
If you have any further enquiries or would like to register your interest in the project to receive updates, please:
---