Transport Network Planning Studies Program
Overview
The Department for Infrastructure and Transport (the Department) is responsible for managing significant transport assets across metropolitan Adelaide. The planning and funding of future transport infrastructure projects to create a safer, more reliable and efficient transport network is a critically important function in supporting the achievement of important social, economic and environmental outcomes.
In 2020 the State Government committed $10 million for the Transport Network Planning Studies Program (TNPSP). The TNPSP represents a pro-active and strategic approach to transport planning with the aim of creating a 'pipeline' of priority infrastructure projects ready for delivery.
The program includes a suite of over 30 transport planning studies across metropolitan Adelaide exploring future upgrades for key arterial roads, intersections, road corridors, greenways and public transport infrastructure. All studies are strategically aligned with the priorities outlined in the 20-Year State Infrastructure Strategy released in May 2020.
The outcomes of the TNPSP will help inform and guide Government decision-making on the funding and delivery of future transport projects. Thorough, strategic and coordinated planning will ensure our State's transport network meets the needs of future generations and is an integrated network completing a long-term vision to enable South Australia's growth.
The TNPSP is divided into the following four key areas and investment programs:
Moving Freight
Integrated Public Transport
Active Travel and Future Mobility
Keeping Connected
The program is being delivered by the Department in partnership with two Integrated Planning Partners (IPPs). These partners are: Arup and AECOM, and Aurecon and Mott MacDonald Joint Venture.
Study Areas
The map below shows the location of the TNPSP study areas. Please click here to view the map in a new page.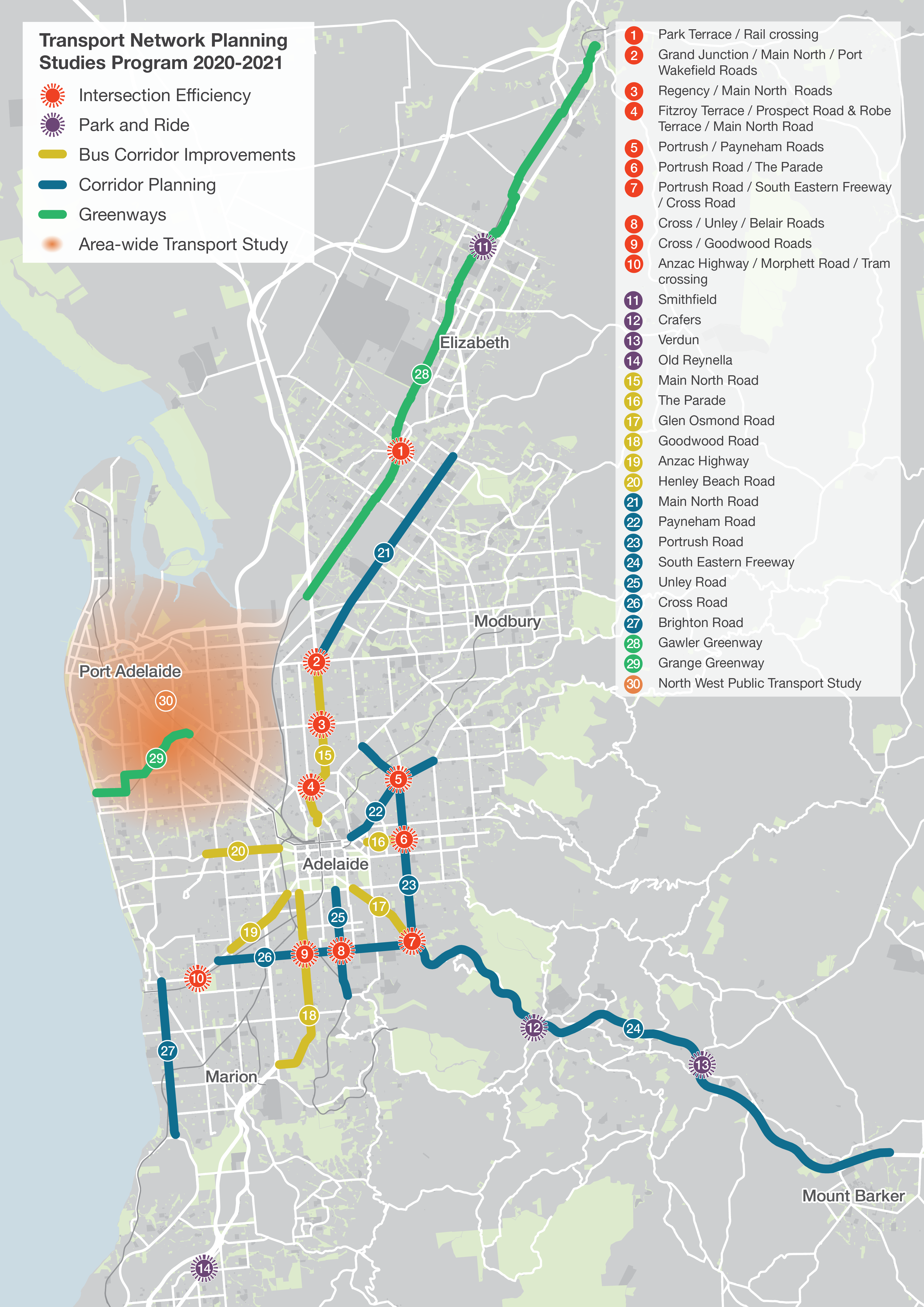 Road Corridor Planning Studies - We'd Like to hear from you!
A key feature of the Transport Network Planning Studies Program are the Road Corridor Planning Studies being undertaking along six of Adelaide's key road corridors – Main North Road, Payneham Road, Portrush Road, Unley Road, Cross Road and Brighton Road.
We'd like to hear about your experience using these road corridors. Community feedback will enable the planning team to better understand local issues, and can help influence future transport infrastructure projects.
Visit the links below to find out more, including how you can provide input:
Stakeholder Engagement
Engagement with key stakeholders is critical to the success of this program. The Department is committed to listening to and partnering with stakeholders to understand local transport issues.
If you have any questions about the program, or you wish to speak with a member of the team, please email dit.communityrelations@sa.gov.au or telephone 1300 794 880.
COVID-19 Response
The Department will continue to tailor community engagement opportunities in line with the latest COVID-19 advice from health authorities. The health and safety of the community is our highest priority. Face-to-face engagement opportunities may be limited and/or restricted. Engagement is crucial however, and we will aim to facilitate face-to-face engagement, including information sessions, where and when it is safe to do so.