Goodwood, Springbank and Daws Road Intersection Upgrade
About the project
Goodwood Road is one of southern Adelaide's major north-south arterial routes, with Springbank Road and Daws Road providing a key east-west connection.
On average more than 60,000 vehicles a day travel through this location, with travel time delays in peak periods.
There have been 50 crashes in the past five years, including 20 casualty crashes.
The Department of Planning, Transport and Infrastructure (DPTI) will be upgrading the intersections of Springbank, Daws and Goodwood Roads to improve safety and travel times for motorists.
Once complete, the upgrade will improve connectivity, capacity and safety for all users.
Prior to finalising the current design, the department investigated multiple options for this intersection. Following community feedback, new data and detailed costings, a realigned four-way intersection will be delivered.
The project is expected to cost $60 million, with early works expected to commence in the first quarter of 2020. Major construction is expected to commence late 2020 with project completion expected by end of 2021, weather permitting.
The successful tenderer for the design development of the Goodwood, Springbank and Daws Road Intersection Upgrade is Wallbridge Gilbert Aztec, who have partnered with Tonkin and KPMG. A tender for the delivery of the project is expected to be announced in late 2020.
The current proposed treatments for the new four-way intersection are:
Road widening on Goodwood Road to provide three through lanes southbound and a left turn onto Springbank Road.
Road widening on Goodwood Road to provide dual right turn lanes onto Daws Road.
Road realignment on Daws Road to provide two through lanes onto Springbank Road, and a left turn onto Goodwood Road (northbound).
Road realignment on Daws Road to provide dual right turn lanes onto Goodwood road (southbound).
Road realignment on Springbank Road to provide two through lanes onto Daws Road, and dual right turn lanes onto Goodwood road (northbound).
Road realignment on Springbank Road to provide dual controlled left turn lanes onto Goodwood Road (southbound).
Extension of dual right turn lanes from Goodwood Road onto Springbank Road.
Road widening on Goodwood Road to allow for an additional through lane northbound, and a left turn onto Daws Road.
Upgraded pedestrian crossings within the intersection, including new pedestrian crossing and lights.
New and upgraded pedestrian ramps and footpaths around the intersection.
New and upgraded traffic signals and road lighting.
Dedicated bicycle lanes on the approaches and through the intersection.
New kerb and gutter where road realignment and widening is occurring.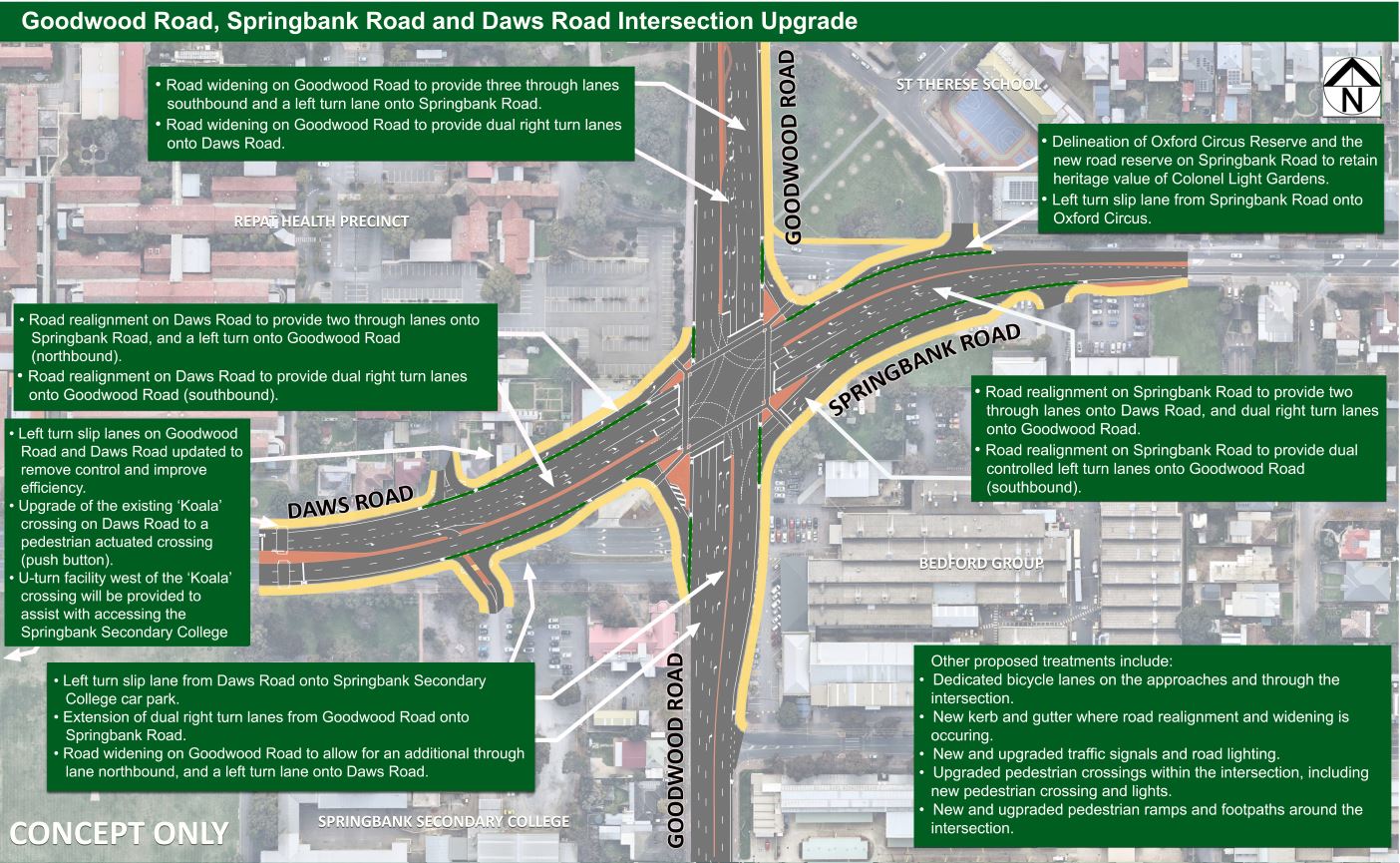 Please note, this is an artist's impression for illustrative purposes only and not a final design. Please click here to download this current plan.
Latest News
To help safeguard the DPTI project team and the community, we have implemented measures to manage the risks of, and our response to, contracting COVID-19.
These include but are not limited to, increased personal hygiene practices and limiting face-to-face contact.
The project team will provide construction updates and work notifications via social media, letterbox drops, emails and the Project website. We are also available to speak via telephone (1300 794 880).
We encourage the community to register for email updates.
There will be no planned community events or information sessions until further notice.
Community Engagement
As part of the project's early concept design and review process, DPTI held two information sessions to meet members of the community and seek feedback.
The information sessions were held at the Colonel Light Gardens RSL on Wednesday 23 October 2019, between 5.30pm and 7.30pm and Saturday 26 October 2019, between 1.00pm and 3.00pm.
In addition to the information sessions, the community were invited to provide their feedback via the YourSAy platform. This consultation commenced on Wednesday 30 October 2019, and concluded on 29 November 2019.
All feedback received from the community was reviewed and considered by the project team and as a result the concept design has been updated to include:
Left turn slip lane from Springbank Road onto Oxford Circus;
Left turn slip lane from Daws Road onto Springbank Secondary College car park;
Left turn slip lanes on Goodwood Road and Daws Road updated to remove control and improve efficiency;
Upgrade of the existing 'Koala' crossing on Daws Road to a pedestrian actuated (push button) crossing (PAC);
Define the border of Oxford Circus Reserve and the new road reserve on Springbank Road to retain heritage value of Colonel Light Gardens; and
U-turn facility on Daws Road to assist with accessing the Springbank Secondary College.
Receiving feedback from the community is important and will continue to help inform the development of the design, with early works expected to commence in March 2020, and major construction expected to commence late 2020. Project completion is expected by the end of 2021, weather permitting.
What's next?
As part of the project, early works including site assessments (drilling of soil boreholes and installation and monitoring of groundwater wells ) and property demolition works will be undertaken along Springbank Road, Goodwood Road and Daws Road to facilitate the new intersection realignment. These works will be undertaken in a staged approach as areas become accessible across the project site.
These works are expected to commence in early March and take approximately six months to complete, weather permitting. Works will be undertaken from Monday to Saturday between 7am and 5pm daily. Some works may also be required on Sundays between 9am and 5pm, however this will not occur unless necessary.
Necessary care will be undertaken to ensure that there is minimal disruption to residents and businesses throughout the demolition works. Temporary and minor traffic restrictions may apply in the vicinity of the works and signage will be in place to alert all road users, including pedestrians, to any changes to traffic conditions. Road users are advised to take care when driving through the area.
For further information please download the latest notification and fact sheet.
Publications
Property Demolitions and Site Assessments Notification March 2020
Property Demolitions Fact Sheet March 2020
Invitation to Community Information Drop In Session February 2020
Project update and early site investigation works notification
Invitation to Community Info Session and project update
Proposed treatments plan (PDF, 5590 KB)
For further information
If you have any further enquiries or would like to register your interest in the project, please visit the Registration, Feedback and Suggestions page, email dpti.communityrelations@sa.gov.au or telephone 1300 794 880.