Salisbury Highway Asphalt Resurfacing Works
---
About the project
The Department for Infrastructure and Transport is undertaking major asphalt resurfacing works on Salisbury Highway, between Elder Smith Road, Mawson Lakes and the connection with the Port River Expressway, Wingfield. The works will also include resurfacing the on and off ramps at the intersection of Port Wakefield Road and Salisbury Highway.
Resurfacing will be undertaken on 5.5 kilometres of Salisbury Highway and will improve road safety and network reliability, support economic activity and deliver a smoother, more reliable journey.
This project is funded under the State Government's Metro Road Stimulus Program and the Periodic Maintenance Program, and support 50 full time equivalent jobs.
Stage one of the works will be from west of Elder Smith Road, to west of the Port Wakefield Road overpass. Stage two will be from east of Kidman Road, to east of the Port River Expressway/Northern Connector interchange.
Stage one works are scheduled to commence on Monday, 13 September, 2021, and stage two works are expected to be completed in late December, 2021.
Get real time traffic info direct to your smartphone by downloading our Addinsight app at www.addinsight.com.au/app or visit TrafficSA at www.traffic.sa.gov.au
We encourage the community to register for email updates.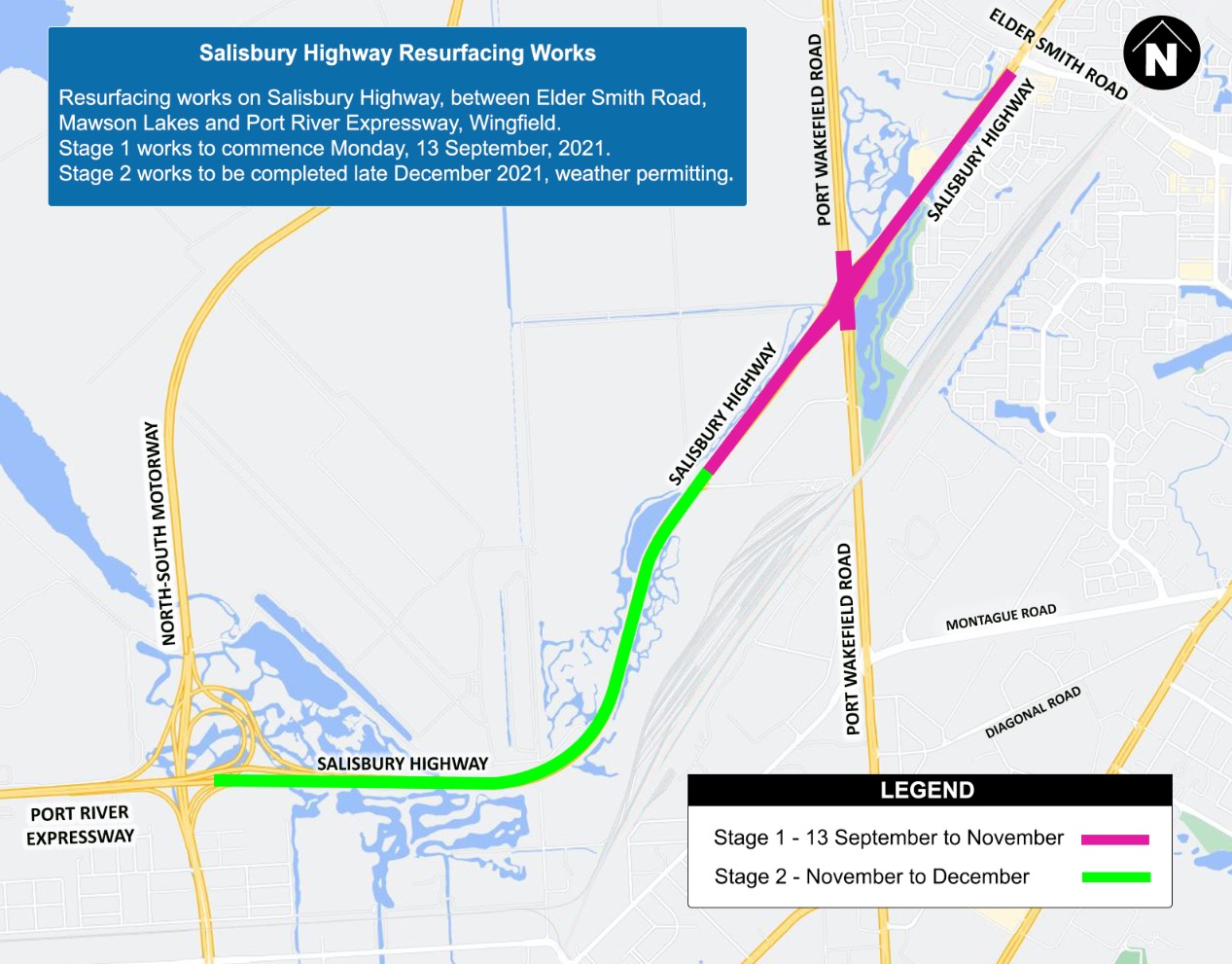 ---
Latest news
From Monday, 13 September 2021, for approximately eight weeks, stage one works will be undertaken between Elder Smith Road (west of the intersection with Salisbury Highway) and west of the Port Wakefield Road overpass.
To minimise impacts to road users, the majority of Stage one works will be undertaken at night, Sunday to Friday between 7pm and 6am.
To safely undertake these works, speed and lane restrictions will be in place. Restrictions will also remain during the day, subject to on site conditions. Please take extra care when workers are on site. Observe speed limits, lane restrictions and traffic controllers when travelling through the area.
Detours will be required intermittently throughout the works. Advanced notice of the detours will be provided via the website, the DIT Facebook page at www.facebook.com/DFITSA or on site electronic messaging boards.
Businesses will remain open and the community is encouraged to continue to support local businesses.
---
COVID-19 response
The Department will continue to tailor community engagement opportunities in line with the latest COVID-19 advice from health authorities.
Face-to-face engagement opportunities may be restricted and we will continue to be guided by the advice of health authorities, with the health and safety of our stakeholders always our highest priority.
---
Further information
If you have any further enquiries or would like to register your interest in the project to receive updates, please:
telephone 1300 794 880, or
write to GPO Box 1533, Adelaide SA 5001.