Gawler Street Pedestrian Crossing, Nuriootpa

---
The Department of Planning, Transport and Infrastructure (DPTI) is improving safety and access for pedestrians and cyclists on Gawler Street, Nuriootpa, adjacent to the Co-op shopping centre.
After a considering community feedback regarding the design of the Gawler Street crossing, as well as findings from a recent traffic study, the Department has developed a design that balances the need for pedestrian safety and traffic efficiency for road users.
Two pedestrian refuges will now be installed on Gawler Street, one in-line with the Community Co-op Store Mall entrance, and the other adjacent Mitre 10 (see concept map). This design caters for wider pedestrian movements for crossing Gawler Street, whilst keeping traffic safely moving in and out of the shopping centre.
This $200 000 project is being delivered as an election commitment from the South Australian Government.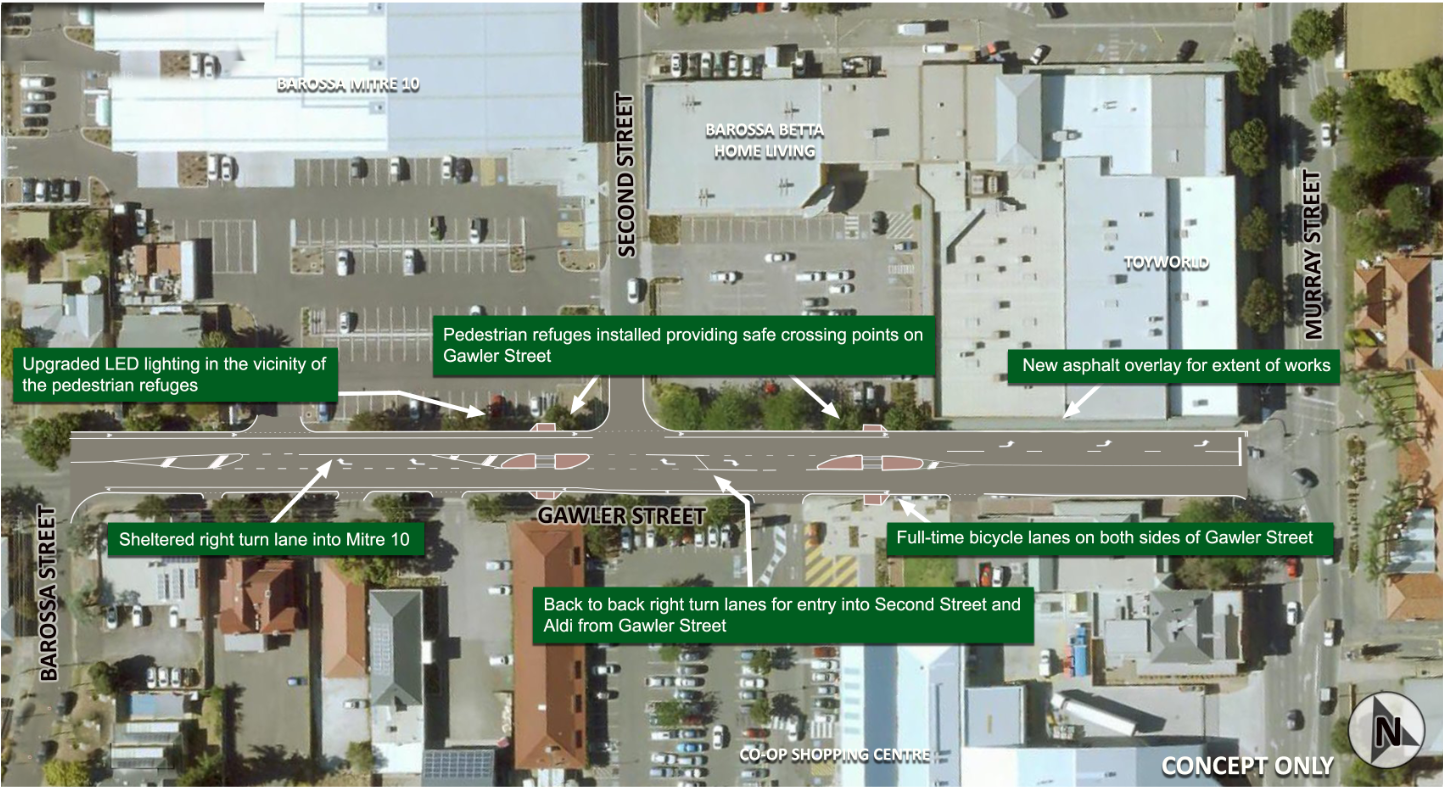 ---
Project Timeframe
Works are set to commence on Sunday 24 November and the project is expected to be completed by the last quarter of 2019.
The majority of works will be undertaken between 7am and 5pm each day. Night works will be undertaken between 9:30pm and 6am on the following days:
Night works will occur for two nights on Thursday and Friday, 28 and 29 November, between 9.30pm and 6am. Gawler Street will be closed to all traffic between Barossa Valley Way and Fourth Street during these hours, with detours in place via Old Kapunda Road.
Night works will also occur Monday and Tuesday, 2 and 3 December, between 9.30pm and 6am, to enable line marking. Gawler Street will remain open but some lane and speed restrictions will apply.
A combination of day and night works will be undertaken to ensure the works can be completed as safely and efficiently, as possible. There will be no construction on public holidays.
DPTI appreciates your cooperation and patience while these important works are carried out.
---
Contact Us
Should you require further information, please email DPTI at dpti.communityrelations@sa.gov.au or telephone 1300 794 880