Regional North-South Freight Route Upgrade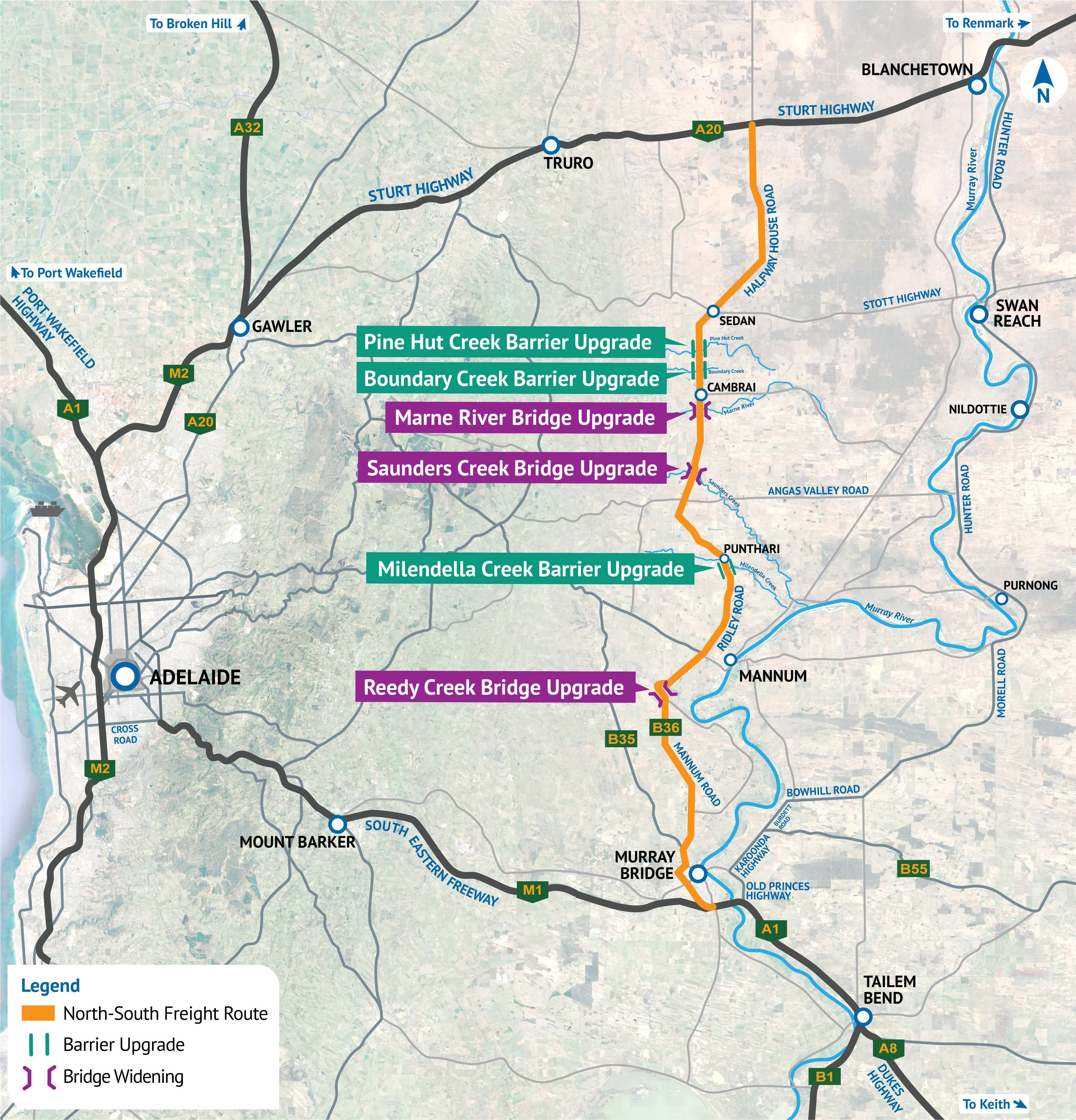 ---
About the project
The Department for Infrastructure and Transport (the Department) will be undertaking works to upgrade the established Regional North-South Freight Route between Sedan and Murray Bridge to improve safety for road users, freight productivity, efficiency and network reliability.
This $12 million package of works is jointly funded (80:20) by the Australian and South Australian governments as part of the Road Infrastructure Stimulus Package.
The first stage of the project was completed in early 2021, and involved 39 kilometres of shoulder sealing works between Sturt Highway and Murray Bridge to improve safety along the route.
The second stage of the project involves works to widen and strengthen three road bridges along the route at Reedy Creek Bridge (Mannum Road, north of Murray Bridge), Marne River Bridge and Saunders Creek Bridge, (both on Ridley Road, south of Sedan).
These bridge upgrades will increase the width of the bridges, giving oversize vehicles a viable alternative to using the South Eastern Freeway and improving freight productivity in regional South Australia.
Barrier upgrades and shoulder resealing works will also be undertaken as part of stage two works at three further locations along Ridley Road, at Pine Hut Creek, Boundary Creek and Milendella Creek.
Project timing
Major works for stage two bridge upgrades at Reedy Creek Bridge, Marne River Bridge and Saunders Creek Bridge; and barrier upgrades at Pine Hut Creek, Boundary Creek and Milendella Creek commenced in mid-September 2021. Project completion across all sites is expected by early 2022, weather permitting.
Christmas Break
Works will temporarily cease over the Christmas break from Wednesday, 22 December 2021 to Monday, 10 January 2022. During this time, speed and lane restrictions will apply, subject to onsite conditions.
Please plan ahead, allow extra travel time and take extra care when travelling through the area.
Important information for oversize vehicles
From Thursday, 23 December 2021, oversize vehicles up to 4.2 metres wide will be permitted to travel in either direction on the North South Freight Route between Murray Bridge and Sedan.
For information regarding permits and potential changes to requirements please refer to the National Heavy Vehicle Regulator (NHVR) website or email info@nhvr.gov.au
---
COVID-19 Response
The Department will continue to tailor community engagement opportunities in line with the latest COVID-19 advice from health authorities.
The project team will provide construction updates and work notifications via social media, letterbox drops, emails and the Project website. We are also available to speak via telephone or can be contacted via email.
---
For more information please contact:
Email: DIT.communityrelations@sa.gov.au
Phone: 1300 794 880