North East Road and South Para Road Junction Upgrade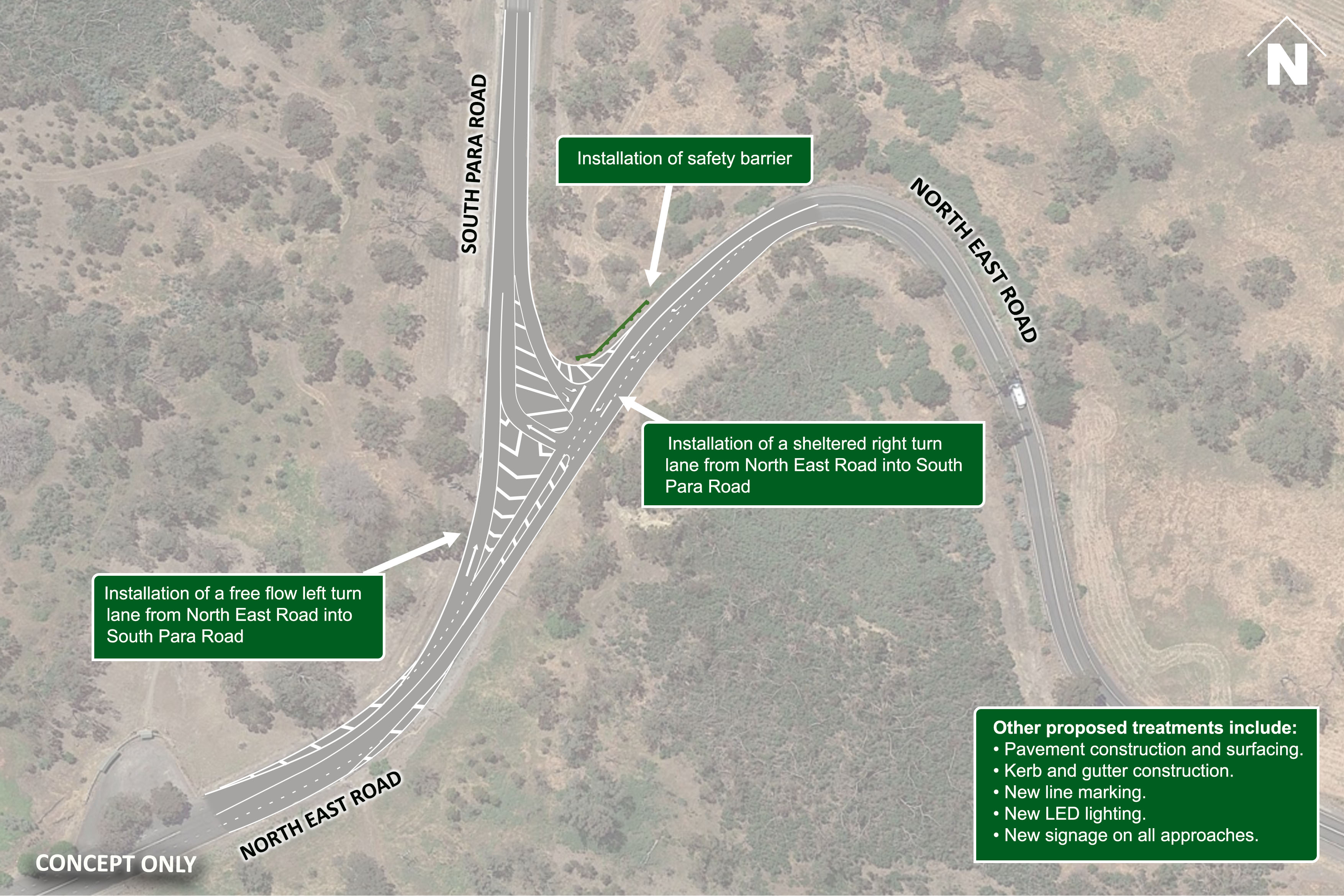 About the Project
The South Australian Government has committed $4.4 million to improve safety for all road users by upgrading the junction of North East Road and South Para Road, Chain of Ponds.
The project will deliver improved sight distance when turning right out of South Para Road, turning movements into South Para Road will also be made safer via a free flow left turn lane and a sheltered right turn lane.
The junction upgrade includes:
Pavement construction and surfacing.
Kerb and gutter construction.
New line marking.
New LED lighting.
New signage on all approaches.
Installation of safety barrier.
Installation of a free flow left turn lane from North East Road onto South Para Road.
Installation of a sheltered right turn lane from North East Road onto South Para Road.
Project Timeframe
Major construction is expected to commence in early 2021, and be completed mid-2021, weather permitting.
Community Engagement
North East Road and South Para Road Junction Upgrade – Community Information Session
Come along to the Community Information Session to get an update on the project and talk to the project team about any questions you may have.
To ensure COVID-19 physical distancing requirements are met, attendees must register for one of two allocated time slots below, prior to attending the information session.
Where: Kersbrook Town Hall – 13/15 Scott Street, Kersbrook
Session date and time: Monday 14 December 5pm to 7pm
To register for one of the session's allocated timeslots or to find out more information regarding the session please:
Fill out one of the following session allocated time slot registration forms
Telephone: 1300 794 880
COVID-19 Response
The Department will continue to tailor community engagement opportunities in line with the latest COVID-19 advice from health authorities.
Face-to-face engagement opportunities may be restricted and we will continue to be guided by the advice of authorities, with the health and safety of our stakeholders always our highest priority.
Engagement with community and industry is crucial and we will facilitate information sessions where possible to enable face to face engagement. It is important to assist in managing these events and enabling physical distancing, that you register as requested so attendance numbers can be monitored.
Contact Us
Should you require further information, please email DIT at dit.communityrelations@sa.gov.au or telephone 1300 794 880