Main North Road and Nottage Terrace Intersection Upgrade
About the project
The Australian and South Australian Governments are jointly funding the $19 million upgrade of the Main North Road and Nottage Terrace intersection. The upgrade is expected to support approximately 15 full-time equivalent jobs per year, over the life of the project.
The Australian Government's commitment is part of the Commonwealth Urban Congestion Fund. The South Australian Government's commitment was announced as part of the last State Budget, to bust congestion by upgrading a number of metropolitan intersections. The South Australian Government's Keeping Metro Traffic Moving Report identifies this intersection as priority location for treatments that address road congestion and keep traffic flowing.
The right turn from Main North Road onto Nottage Terrace is a key movement for vehicles travelling from the south and CBD to the north-eastern suburbs.
The existing single right turn lane causes problems due to the inadequate capacity, resulting in long delays for peak traffic including disruptions to vehicles heading north on Main North Road through the intersection.
There is a need for additional capacity on all approaches to the intersection and to provide additional right turn capacity from Main North Road onto Nottage Terrace.
On average more than 67,000 vehicles travel through the intersection each day.
There have been 31 reported crashes at the intersection in the past five years, consisting of 12 minor injury crashes. Approximately 65% of all crashes were rear end crashes.
The Main North Road and Nottage Terrace Intersection Upgrade scope includes:
widening of Main North Road (west side), with the installation of dual right turn lanes onto Nottage Terrace travelling eastbound, two through lanes on Main North Road travelling northbound, and the addition of a priority bus lane through the intersection travelling northbound;
widening of Main North Road (east side) to accommodate the left turn lane onto Nottage Terrace travelling eastbound and the extension of the bus priority lane at the intersection travelling southbound;
widening of Nottage Terrace (south side) to accommodate the extension of the right turn lanes travelling northbound from Nottage Terrace onto Main North Road;
changes to access on Wilson Street, College Avenue and Victoria Avenue to accommodate the proposed treatments;
upgraded pedestrian crossings within the intersection, including new pedestrian crossing lights and ramps;
extension of the existing northbound bicycle lane on Main North Road through the intersection;
pavement construction and surfacing; and
new and upgraded traffic signals, road lighting, line marking, and drainage.
Project was opened to traffic in November 2021.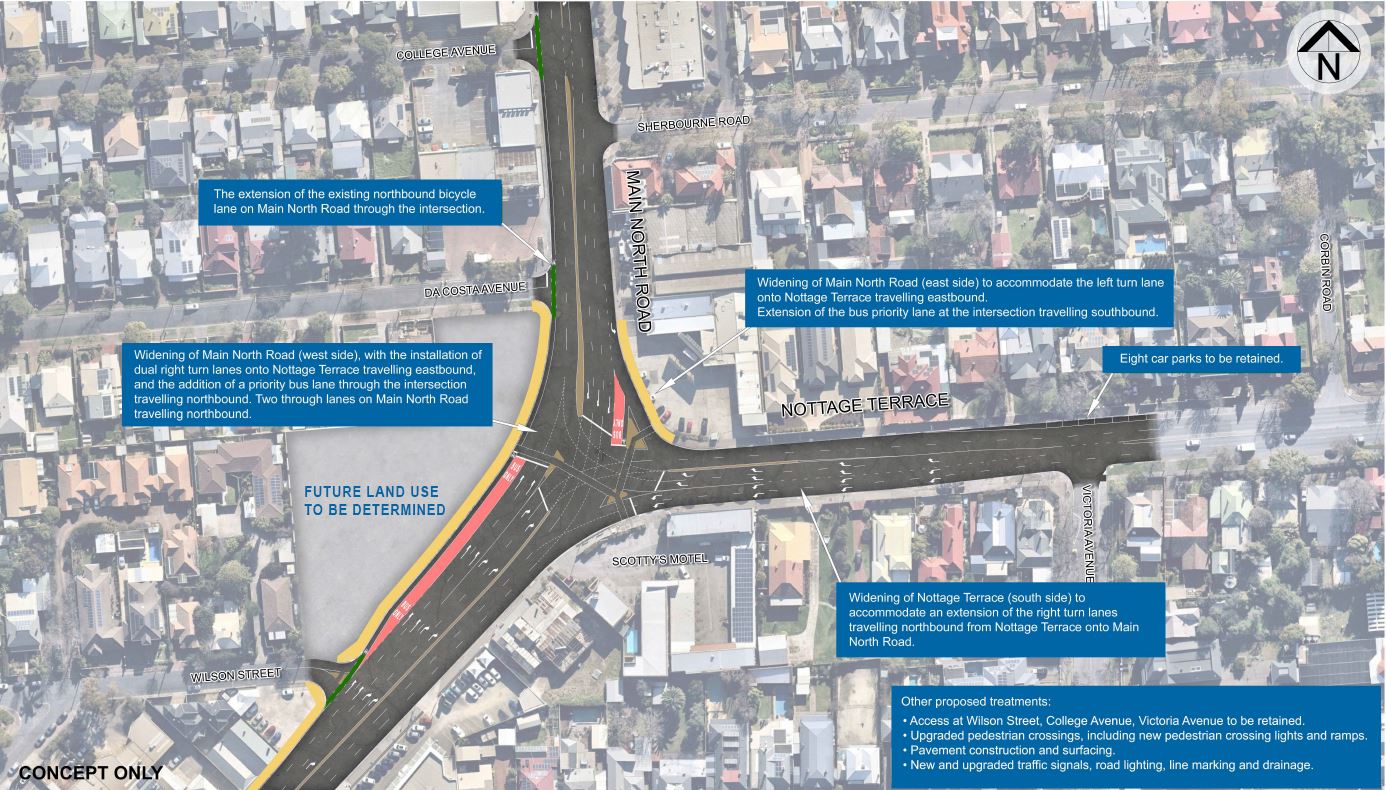 Please note, this is an artist's impression for illustrative purposes only and not a final design. For further information download a copy of the current plan.
Community Engagement
The Department for Infrastructure and Transport sought feedback from the community regarding the proposed concept design.
All feedback received from the community was reviewed and considered by the project team and as a result the concept design has been updated to include:
Left turn access from Wilson Street onto Main North Road retained.
Right turn access from Main North Road onto College Avenue retained.
Right turn access from Victoria Avenue onto Nottage Terrace retained.
Eight car parks on the north side of Nottage Terrace between the intersection and Corban Road retained.
For further information download a copy of the updated concept map.
DIT COVID-19 Response
The Department will continue to tailor community engagement opportunities in line with the latest COVID-19 advice from health authorities.
Face-to-face engagement opportunities may be restricted and we will continue to be guided by the advice of health authorities, with the health and safety of our stakeholders always our highest priority.
Engagement with community and industry is crucial and we will facilitate information sessions as much as possible to enable face to face engagement. It is important to assist in managing these events that you register as requested to enable physical distancing as much as possible.
What's next?
Major works commenced in May 2021. Works will be undertaken during the day Monday to Saturday, between 7am and 6pm, with night works also required, to minimise impacts and ensure the works can be completed safely and efficiently. Advance notice of night works will be provided.
The intersection will remain open during these works. Speed restrictions will apply and lane restrictions will be in place, when required, to maintain the safety of road users and workers.
Road users are asked to use extra caution when workers are on site, follow the directions of traffic controllers and observe traffic signage and speed restrictions when travelling through the area.
Access for properties will be maintained throughout the works.
Project Updates
Night works and project update (traffic switch) - September 2021
Night works - July and August 2021
Construction update - May 2021
Rescheduled community information session invitation - December 2020
Service relocation night works - November and December 2020
Project update and community information session invite - November 2020
Service relocation works - September 2020
Early service relocation works - September 2020
Small Business Fact Sheet - August 2020
Night works for site investigations - August 2020
Project update and opportunity to provide feedback - April 2020
Latest concept plan - April 2020
Project update and planning study - December 2019
Media Releases
Monday 17 May 2021 - South Australian road projects in the fast lane
Thursday 13 May 2021 - Reduced travel time and improved safety at notorious Main North Road intersection
Further information
If you have any further enquiries or would like to register your interest in the project to receive updates, please: