Portrush and Magill Road Intersection Upgrade
About the project
The Australian and South Australian Governments have announced $98 million joint funding for the upgrade of the Magill and Portrush Roads intersection, with the cost shared equally.
The Australian Government commitment is part of the Commonwealth Urban Congestion Fund. The State Government's contribution addresses recommendations of the State Government's Keeping Metro Traffic Moving Report. The report identifies this intersection as a priority location for treatments that address road congestion and keep traffic flowing
The intersection of Portrush Road and Magill Road is part of the National Land Transport Network and forms part of the Outer Ring Route, which is a major traffic route and freight route. Both Portrush and Magill Roads are also high frequency public transport corridors.
The upgrade will:
improve travel times
improve safety for all users
improve network reliability
improve economic productivity.
Early works are planned to start in 2020, with project completion expected in 2022.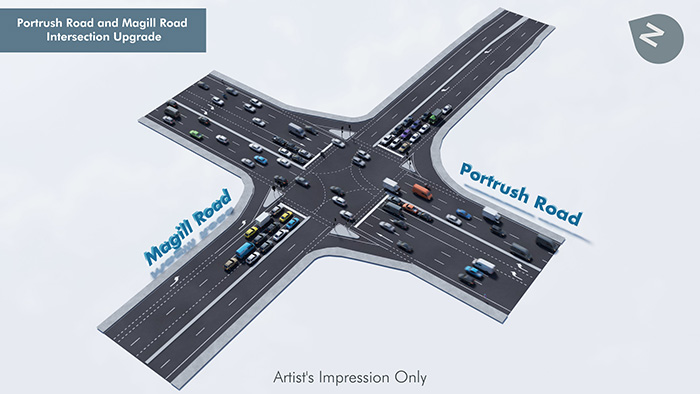 What's next?
A contract to undertake the detailed planning and design work that will identify the preferred option for upgrading the intersection was awarded to GHD in September 2019. It is anticipated that this detailed planning and design work will conclude in 2020.
Community and stakeholder engagement forms an important part of the planning process. DPTI and GHD will engage with residents, land owners, business owners and other stakeholders as the preferred option is developed. We encourage you to have your say while the planning process is underway (see our contact details below).
Please click here to view the Magill, Portrush Roads Intersection Upgrade Notification.
Further information
If you have any further enquiries or would like to register your interest in the project to receive updates, please: