Cross Road and Fullarton Road Intersection Upgrade
About the project
The Australian and South Australian Governments are jointly funding (50:50) the $61 million upgrade of the Cross Road and Fullarton Road intersection. The project is expected to support approximately 65 jobs per year, averaged over the life of the construction period.
The Australian Government's commitment is part of the Commonwealth Urban Congestion Fund. The State Government's commitment was announced as part of the 2019-2020 State Budget, to bust congestion by upgrading a number of Metropolitan intersections. The State Government's contribution addresses recommendations of the Keeping Metro Traffic Moving Report. The report identifies this intersection as a priority location for treatments that address road congestion and keep traffic flowing.
The Cross Road and Fullarton Road intersection is located approximately five kilometres south-east of Adelaide's Central Business District (CBD), and is adjacent to the University of Adelaide Waite Campus and Urrbrae High School, within the suburbs of Urrbrae and Kingswood. Cross Road and Fullarton Road are both important commuter routes, serving traffic to and from the Mitcham Hills area and the South Eastern Freeway.
Cross Road forms part of Adelaide's Outer Ring Route (ORR) which is a major traffic and freight route, connecting to export and import gateways and intermodal terminals. Fullarton Road forms part of the Inner Ring Route, which is a major traffic route. Both Cross Road and Fullarton Road are also high frequency public transport corridors.
An average of approximately 52,600 vehicles per day pass through this intersection (based on a count conducted in August 2019). The intersection is currently experiencing travel time delays in peak periods, resulting in inefficient, unreliable journeys and poses safety risks for all road users. During the last five year period (2015 to 2019) there have been 35 reported crashes for Cross Road/Fullarton Road Intersection, Urrbrae. Of these, there were two serious injury crashes resulting in three serious injuries; 14 minor injury crashes resulting in 14 minor injuries; and 19 property damage crashes.
Once complete, the upgrade will improve travel times and safety for all road users, improve network reliability and support economic activity.
Project design work will continue in the coming months with early works anticipated to commence by mid-2021. Major construction works are scheduled to commence in late 2021, with project completion expected in late 2022, weather permitting.
Concept design
The current proposed concept design has been further developed based on the significant feedback received from the community during the planning phase of the project, as well as ongoing consultation with key project stakeholders.
Extensive community and stakeholder consultation will continue throughout the early design and delivery phases of the intersection upgrade.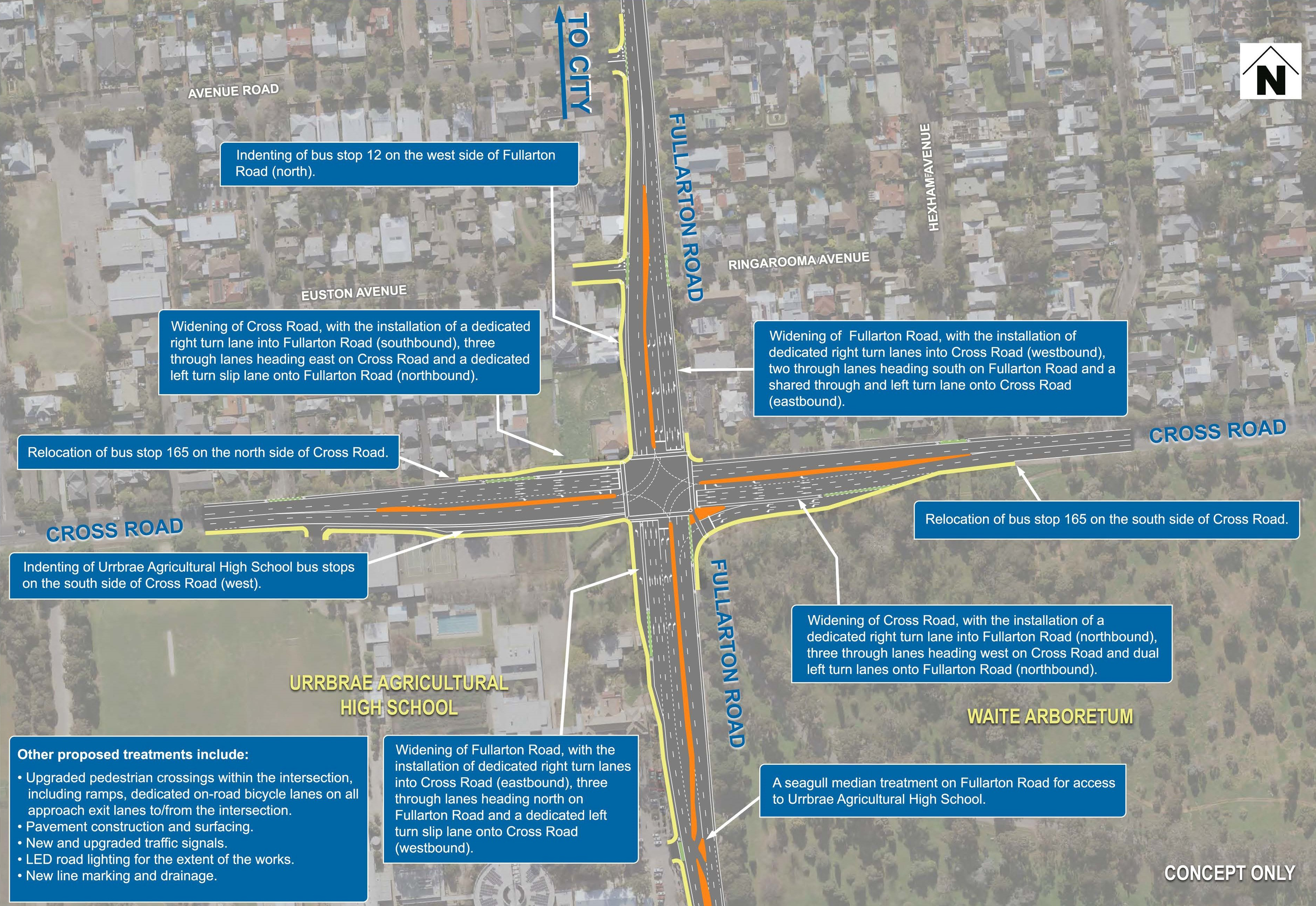 Please note this image is an artist's impression for illustrative purposes only, and not a final design.
For further detail download a copy of the current concept plan.
The proposed treatments include:
widening of Cross Road, with the installation of dedicated right turn lane into Fullarton Road on both approaches, three through lanes on both approaches, a dedicated left turn slip lane onto Fullarton Road (northbound) and dual left turn lanes onto Fullarton Road (southbound);
widening of Fullarton Road, with the installation of dedicated right turn lanes into Cross Road on both approaches, three through lanes on both approaches, a dedicated left turn slip lane onto Cross Road (westbound) and a shared though and left turn lane onto Cross Road (eastbound);
indenting of Urrbrae Agricultural High School Bus stops on the south side of Cross Road (west) and bus stop 12 on the west side of Fullarton Road (north), and relocation of bus stops 165 located on the north and south sides of Cross Road;
upgraded pedestrian crossings within the intersection, including ramps, dedicated on-road bicycle lanes on all approach exit lanes to/from the intersection;
a seagull median treatment on Fullarton Road for access to Urrbrae Agricultural High School;
pavement construction and surfacing;
new and upgraded traffic signals;
LED road lighting for the extent of the works; and
new line marking and drainage.
Design Development: key considerations
Key considerations for design development include:
stakeholder and community input and consideration of the needs of the local university, schools, residents and businesses including safe access, car parking and managing construction impacts;
road widening to improve safety and capacity of the intersection;
right hand turning solutions at the intersection;
improving travel times to reduce congestion;
provision of safer pedestrian crossings;
consideration of bus stops and active transport opportunities; and
consideration of environmental aspects including surrounding vegetation and heritage aspects.
For further information on the project please visit the Frequently Asked Questions (FAQ's) page.
Early engagement and community feedback
As part of the project's early concept design and review process, DIT held two information sessions to meet members of the community and seek feedback.
The information sessions were held at the Fullarton Park Community Centre on Thursday 20 May 2021, between 5.00pm and 7.00pm and Saturday 29 May 2021, between 10am and 12pm.
In addition to the information sessions, the community were invited to provide their feedback. This consultation commenced in December 2020, and concluded on 14 June 2021.
All feedback received from the community is being reviewed and considered by the project team.
The Department will continue to liaise with the community as the design is developed. All feedback and concerns will be considered as the project team continue through the design process to identify a solution that balances the needs of the project's various stakeholders, as much as practically possible, whilst delivering on the project's objectives.
What is happening with the Gatehouse?
As part of the project's early concept design and review process, the community were invited to provide feedback to the project team via the projects online feedback form, email and phone.
After taking on board feedback from the community and working collaboratively with the University of Adelaide, the Gatehouse is now proposed to be relocated (decommissioned and rebuilt) to a new site on Claremont Avenue.
Community and stakeholder engagement forms an important part of the planning, design and delivery process. The Department will continue to engage with residents, land owners, business owners and other stakeholders as the preferred design is developed.
COVID-19 Response
The Department will continue to tailor community engagement opportunities in line with the latest COVID-19 advice from health authorities.
Face-to-face engagement opportunities may be restricted and we will continue to be guided by the advice of health authorities, with the health and safety of our stakeholders always our highest priority.
Engagement with community and industry is crucial and we will facilitate information sessions as much as possible to enable face to face engagement. It is important to assist in managing these events that you register as requested to enable physical distancing as much as possible.
Publications
July 2021 - Investigation night works
May 2021 - Community Information Session
December 2020 - Updated concept design and feedback
December 2020 - University Gatehouse - FMG - Relocation Feasibility Assessment
September 2020 - Site Investigation Works
August 2020 - Small Business Fact Sheet
December 2019 - Community Update
Further Information
If you have any further enquiries or would like to register your interest in the project to receive updates, please:
telephone 1300 794 880, or
write to GPO Box 1533, Adelaide SA 5001.