Angle Vale Riverbanks College Junction Upgrades
About the project
The Department for Infrastructure and Transport (the Department) is delivering local road improvements to support the construction of the new Riverbanks College B-12 in Angle Vale. This upgrade is funded by the South Australian Government and will improve the safety and efficiency for all road users near the College.
Key local upgrades near Riverbanks College will include:
new signalised junctions at Frisby and Angle Vale Roads, and Riverbanks and Angle Vale Roads, including new signalised pedestrian crossings;
a new Shared Use Path for pedestrians and cyclists on Angle Vale and Riverbanks Roads;
new and upgraded LED road lighting for the extent of the works;
new line marking and drainage; and
pavement construction and surfacing and new median and kerb.
What's next?
Construction is underway, and works to date have included the installation of new drainage and stormwater infrastructure, excavation activities, new LED road lighting, concrete works, relocation of remaining underground services and relocation of existing stobie poles on Riverbanks Road.
To facilitate the continuing road resurfacing works at the junction of Frisby Road with Angle Vale Road, there will be temporary traffic detour in place until 6pm Thursday, 7 October 2021.
The majority of the works are being undertaken Monday to Saturday, between 7am and 6pm.
Works on site will be undertaken Monday to Saturday between 7am and 6pm. The temporary detours will remain in place outside of these work hours.
A 40 km/h speed restriction will be in place and lane and other speed restrictions may apply, subject to on site conditions. Frisby Road, between Fradd Road and Angle Vale will remain open for local traffic only.
Project completion is expected in late 2021, weather permitting.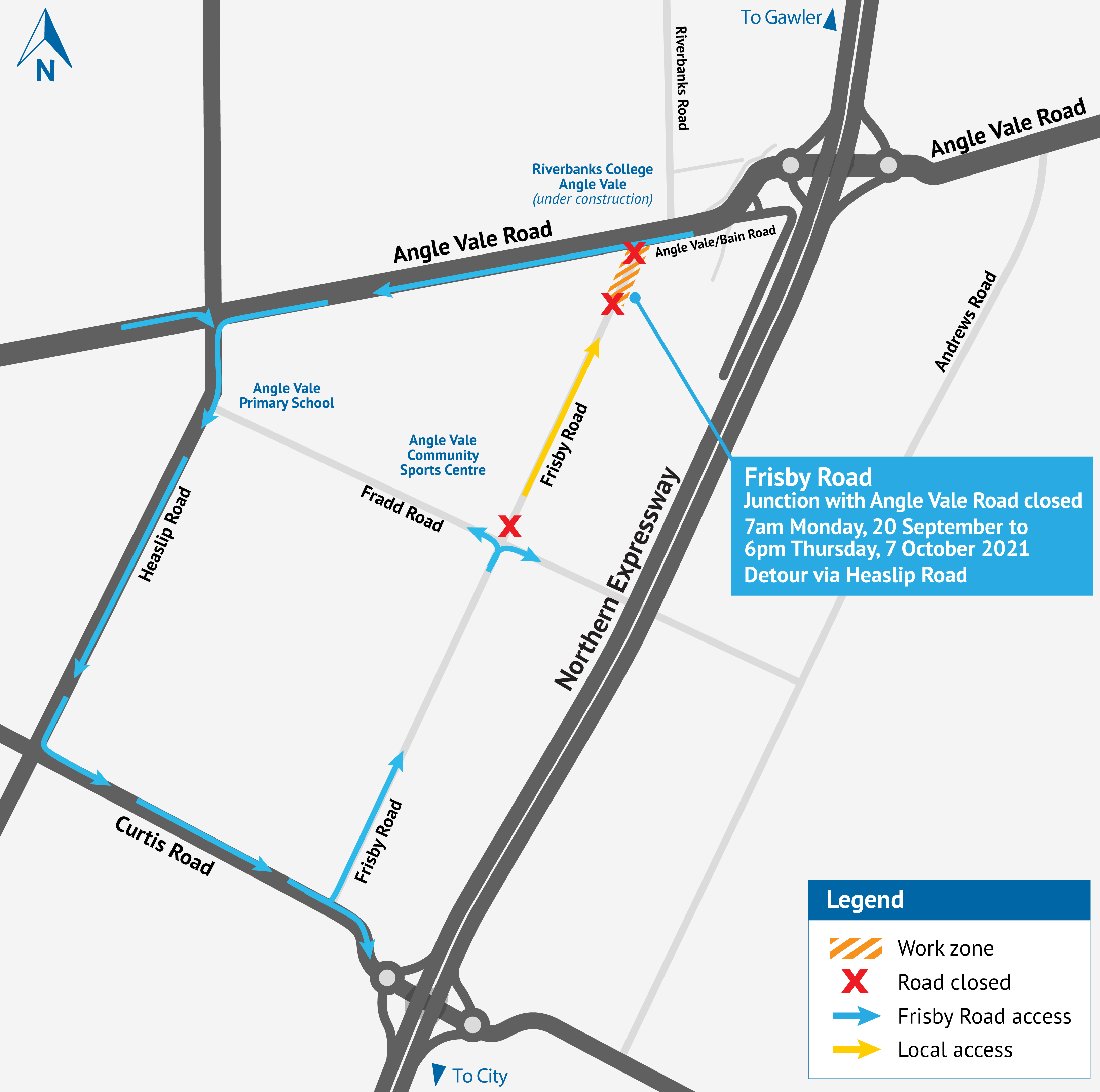 Further information
To find out more about the project or register for future updates, please contact the project team at the following:
For further information about Riverbanks College B-12 visit: www.education.sa.gov.au/Riverbanks